LIEUX DE RENDEZ-VOUS (paris by night)
PARIS BY NIGHT – departure 8h30pm
MEET AT THE CHAMPS-ELYSEES – 67, AVENUE DES CHAMPS-ELYSEES 75008 PARIS
*WARNING : due to the Rugby World Cup in France, the meeting point will change to the following dates:
FRIDAY OCTOBER 06 2023
Meeting point :
5 Rue Soufflot 75005 Paris, opposite the Pantheon.
As a reminder, it is imperative that you arrive 20 minutes before the departure time of Bus Toqué. 
In case of delay or absence no refund,
you will not be entitled to any refund.
It is therefore imperative to be on board the bus before the departure time.
PARIS BY NIGHT
RER : Les Invalides (RER C)
METRO : Georges V (line 1) | Franklin D. Roosevelt (line 1 and 9) | Champs Elysées – Clémenceau (line 1 and 13)
BUS : 42, 73, 83, 93
PARKING : Parking of the Champs Elysées – 64, avenue des Champs Elysées – 09 73 72 33 13
Parking – 10 rue du Colysée  – 01 45 63 34 09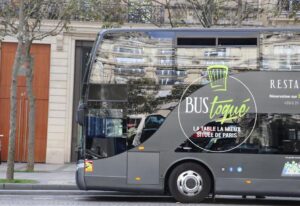 INFORMATIONS
If you have any questions about your order, please contact us at contact@bustoque.fr, you will receive an answer within 24 hours from Monday to Friday. If you are late for your appointment or cannot find the meeting point, a dedicated line is at your disposal: 06 21 40 20 41
If you wish to change your reservation, you have up to 72 hours before your arrival, 10% of the modification fees will be applied.
Less than 72 hours before the event: the date of the reservation cannot be changed and the reservation will be considered as cancelled. No refund will be given.
We remind you that reservations are not refundable in case of cancellation, except for exceptional closure by Bus Toqué. Any delay is considered as a cancellation and will result in a 100% charge.
It is not possible for us to take charge of any luggage.
Our sales department remains at your disposal for any further information: contact@bustoque.fr | 06 21 40 20 41
See you soon to live together an unforgettable moment…